Tips and tools for project ideation, brainstorming and thinking outside the box.

Mihaly Csikszentmihalyi describes 'Flow' as a psychological state of complete absorption in the current experience. Read all about flow theory here and ways to create flow here.
The Digital Society School Design Method Toolkit enables you to get started and enrich your design process. A collection of design and research methods: categorised to help you select, time based to help you plan. Plan and execute your design research, ideation, experimentation and creation within short iterations.
Use these top brainstorming techniques to collaborate with your team, generate new ideas and move your projects forward in creative, new ways.
Spark an endless supply of fresh ideas in one easy to use app on your iPhone, iPad or Apple Watch. Whether you're facing a challenge at work, in life or with a creative project, join tens of thousands of people who are using our creativity prompts to brainstorm new ideas, trigger creative thinking, overcome blocks, inspire creative writing and spark innovation.
Many approaches to encouraging better thinking are abilities-centric, but Visible Thinking is about fostering dispositions of thought, creating a Culture of Thinking, and bringing students to the center of the learning conversation.I think it is vital to share the message and practices of Visible Thinking, especially as they apply to innovation and creativity in the…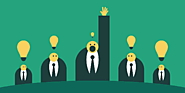 Brainstorming – it's a popular creativity technique that many (if not all) of us have used. And we tend to use brainstorming because it's the best way to get the most out of a team when generating ideas, right? To throw a spanner in the works, at Inventium we like to say that brainstorming is bollocks. Yes, you definitely read that right and it might sound a bit harsh, but it's actually been scientifically proven!
Sick of traditional brainstorming? Check out these alternative exercises to get the creativity flowing.
Stuck for design inspiration? Can't get started on a project or still looking for a suitable angle? Struggling to overcome creative block?
Brainstorming about a subject helps unclog thoughts, organize ideas, and find a focus. Here are some strategies to help you get started.
Kickstart your day with these creative exercises. Benjamin Franklin used to spend his mornings naked. Sigmund Freud would trim his beard. Marcel Proust smoked opium. There are many ways to start the day in a creative frame of mind. If you want an alternative to being nude, beardy, or high, here are some of our favorites.
Do you know the basics of drawing and digital art, but feel stuck at your current skill level? Do you admire the talent of your favorite artists and wonder how you could ever become as good as them? Do you want desperately to improve but don't even know where to start?
The Strategy / Culture Bicycle is designed to help you identify and align around your group's most important questions. It is a quick and effective way to rapidly develop a shared understanding across the group around what it already knows and what it needs to figure out. It can be used both by individuals and by groups of any size. (Download the instructions for more.)
Creativity and invention have long been seen as a "black box." We fully expect that when designers, inventors, and other creative people go into a room with a goal, they will come out with more or less creative discoveries and results. Although when we watch them at work, we can observe some combination of sketching, animated conversations, messy desks, and drinking. But the fundamental nature of what happens in that room remains mostly a mystery. It's easy to leave creativity to the creative types, and say to yourself, "I'm just not a creative person." The fact is that in a complex, dynamic, competitive knowledge economy, it's no longer acceptable to take this position. If you are a knowledge worker, you must become, to some degree, creative. That may sound a bit scary, but the fact is that successful creative people tend to employ simple strategies and practices to get where they want to go. It's not so much that they employ a consistent, repeatable process that leads to consistent creative results. It's more like a workshop with a set of tools and strategies for examining things deeply, for exploring new ideas, for performing experiments and testing hypotheses, to generate new and surprising insights and results. So we set out, much like the brothers Grimm, to collect the best of these practices wherever we could find them, with a special focus on Silicon Valley, innovative companies, and the information revolution.
Suppose you are stuck searching for ideas for an ongoing project or spending many days and hours and still cannot find a satisfactory solution. In that case, don't worry. Here are 6 strategies to help you realise that your creativity has no limits.