A selection of resources for academics who are supervising practice-led postgraduate student projects in the creative industries.
Dec 11, 2016 - eprints.qut.edu.au -

0
We find ourselves at an interesting intersection. As supervisors of practice-led research higher degree students in both art and design, we find ourselves consciously using different vocabularies when we teach our postgraduate students research methods. We encounter stark differences in project designs and we find ourselves switching hats as we alternate between draft exegeses and consider, for example, the poetic goals of an installation artist one day and the pragmatic aims of an interaction designer the next.
Hamilton, Jillian G. and Jaaniste, Luke O. (2009) The effective and the
evocative : reflecting on practice-led research approaches in art and design. In: Interventions in the Public Domain, 30 September - 2 October 2009, Queensland College of Art, Griffith University, Brisbane, Queensland.
Dec 11, 2016 - drive.google.com -

0
In the emergent field of creative practice higher degrees by research, first generation supervisors have developed new models of supervision for an unprecedented form of research, which combines creative practice and a written thesis. In a national research project, entitled 'Effective supervision of creative practice higher research degrees', we set out to capture and share early supervisors' insights, strategies and approaches to supporting their creative practice PhD students. From the insights we gained during the early interview process, we expanded our research methods in line with a distributed leadership model and developed a dialogic framework. This led us to unanticipated conclusions and unexpected recommendations. In this study, we primarily draw on philosopher and literary theorist Mikhail Bakhtin's dialogics to explain how giving precedence to the voices of supervisors not only facilitated the articulation of dispersed tacit knowledge, but also led to other discoveries. These include the nature of supervisors' resistance to prescribed models, policies and central academic development programmes; the importance of polyvocality and responsive dialogue in enabling continued innovation in the field; the benefits to supervisors of reflecting, discussing and sharing practices with colleagues; and the value of distributed leadership and dialogue to academic development and supervision capacity building in research education.
Dec 11, 2016 - drive.google.com -

1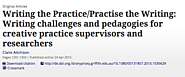 There is now an increasing body of knowledge on creative practice-based doctorates especially in Australia and the United Kingdom. A particular focus in recent years has been on the written examinable component or exegesis, and a number of studies have provided important information about change and stability in the form and nature of the exegesis and its relationship to the creative project. However, we still know relatively little about the pedagogical practices that supervisors use to support these students' development as scholarly writers, nor of how supervisors view 'writing' in relation to the creative practice components of the degree endeavour. This paper draws on data from a recent study of supervision in creative practice higher research degrees and it highlights the transformative nature of writing for the development of creative practice research scholars in the context of competing discourses on research writing. In contrast to institutional silencing of writing, the study relates numerous examples of effective writing-rich supervisory pedagogies illustrating how successful supervisors work with their students to bring their creative projects into articulation.
http://dx.doi.org.libraryproxy.griffith.edu.au/10.1080/00131857.2015.1035629
Dec 11, 2016 - eprints.qut.edu.au -

0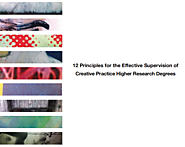 In late 2012 and early 2013 we interviewed 25 experienced and early career supervisors of creative practice higher research degrees. This journey spanned five universities and a broad range of disciplines including visual art, music, performing art, new media, creative writing, fashion, graphic design, interaction design and interior
design. Some of the supervisors we interviewed were amongst the first to complete and supervise practice-led and practice-based PhDs; some have advocated for and defined this emergent field; and some belong to the next generation of supervisors who have confidently embarked on this exciting and challenging path.
Their reflections have brought to light many insights gained over the past decade. Here we have drawn together common themes into a collection of principles and best practice examples. We present them as advice rather than rules, as one thing that the supervisors were unanimous about is the need to avoid proscriptive models and frameworks, and to foster creativity and innovation in what is still an emergent field of postgraduate supervision.
Oct 08, 2016 - realtimearts.net -

1
The research investigation must come from the practice. My supervisory approach necessitates an understanding of the artist's creative process. This involves: (1) observing the idiosyncrasies of the candidate's artistic practice; (2) identifying the salient features of that practice; (3) identifying hidden strengths, patterns and weaknesses; (4) addressing any technical issues that may be causing a hindrance; (5) problem solving by reviewing the candidate's previous work, discussing other artists' works, or developing a familiarity with existing works relevant to the enquiry. For some people these indicators are not necessary to research supervision. I consider all to be important. They lay the foundations for a viable research investigation and methodology. Sometimes, the candidate is totally aware of their practice and area of research investigation. While this makes the early stages of a PhD journey relatively easy, the representation of the work as a research enquiry still demands a lot of input and interrogation.